I am a Dude Mom.
It wasn't planned.
It just happened.
And it is awesome.  So, thank you, God.
I love connecting with other Dude Moms and showcasing the perfectly chaotic, insanely noisy, dirt-filled, sword-fighting, monster-hunting moment of our lives.
It's special to be an all Dude Mom, and I'm here to tell you why!
Want to connect with other Dude Moms?  Here are a few I'm finding particularly awesome…
If you are a Dude Mom who is eager to share her Dude Mom Life with the world, please consider submitting a picture or a post to Dude Mom Monday.  All it takes is a photo that captures your Dude Mom Life and a short caption that begins with, "Dude Mom Life is…" you fill in the blank!
Shoot it over to me (parentingbydummies at gmail) with a link to your blog (if you have one) and your Twitter (if you have one) or your Facebook (I know you have that!) and I'll put you in line for a future feature (can you say that 5 times fast?!).
And don't forget to grab our new button.  We're a for real crew now, we can like enter dance battles and such…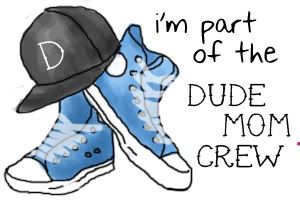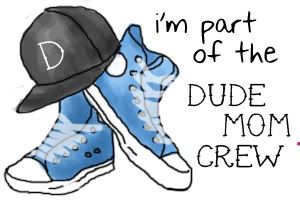 Want to be featured on an upcoming Dude Mom Monday?! Fill out the form: