I've never been a huge Black Friday shopper.
As in, I can count on one hand the number of times in my life I've been out of my house and at a retailer on Black Friday.
Something about getting up at 4am to be kidney punched by people trying to get one of 7 available DVD players from Wal-Mart has just never been super appealing to me.
But, in an effort to experience the magic of that day I have ventured out a few times.
Never with any success.
I'm never fast enough for the door busters and for whatever reason the things my kids want are never on sale.
In fact, the very best thing I've ever snagged via a Black Friday deal was our flat screen TV, and that we purchased online. From the comfort of my cozy couch, wrapped in a blanket, with a plate full of turkey day leftovers on my lap.
Even though I'm what you might call anti-standing-in-line-at-ungodly-hours-with-people-largely-devoid-of-home-training, I've got some tips to help you win your Black Friday shopping excursions this year should you be so bold.
Black Friday Shopping Tips, Because It Doesn't' Have to be This Way…
1. Map it out. Find the deals you want to capitalize on, and map out your shopping route so you can hit all of the shops you want to efficiently. Some stores require you to be there by a certain time, or only have a limited number of items to sale so you need to hit those first
2. Make a list. Don't get tricked into buy a VCR just because it's on sale for $15. We both know you don't need a VCR. Make a list of things you really need/want and then find the best deals on those items. If it's not on your list, you probably don't need it, even if it is at a "never before seen price!"
3. Shop with cash. It's easier to stick to a budget if you pay with greenbacks because when it's gone, it's gone.
4. Tweet it up. Check out your fave retailers' social media accounts for deals and promotions. If you haven't signed up for Twitter yet and you're serious about this whole Black Friday thing, you might want to do that.
5. Shop in your jammies. Black Friday deals aren't only just in store. You don't have to spend your mornings throwing elbows and wrestling grabby people to the ground. You can take advantage of some pretty awesome deals right from the comfort of your couch.
6. Get pro tips. The Black Friday articles on The Good Stuff can give you some great tips to help you prepare for the big day. They cover everything from cool shopping stats to
7. Leave the kids at home. I shouldn't have to say that, but I have to say that.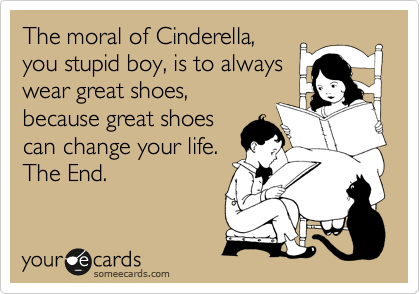 8. Wear good kicks. Cute and comfy is my recommendation. You can expect to do a lot of walking and standing in line.
9. Bring a friend. The whole divide and conquer thing can work in your favor.
10. Just enter and win! The Coupons.com Black Friday Sweepstakes could be your ticket to the very best Black Friday win in the history of Black Friday wins. It's at least worth entering.