I'm going to be honest, I'm not a huge fan of Thanksgiving.
I'm all for being thankful, and reminding The Dudes to do so as well, I just don't like turkey.  Or stuffing.  Or eating at 2pm.  Or the parade.  Or a full day of college football.
And, cooking Thanksgiving dinner with my own hands is entirely out of the question.  I tried it once; it was a bust.  The turkey caught fire, and everyone complained about the side dishes.  My children wound up eating mashed potatoes and Hawaiian roles for dinner while I got drunk enjoyed some eggnog by the fire.
I've already decided that when Mimi is too old to cook, we are all going to start taking an island vacation to celebrate Turkey Day.
Annnnny day now, Mimi!
Despite my dislike of most things Thanksgiving, we always try to have a memorable, enjoyable Thanksgiving holiday for The Dudes.  Whether that's because I get to show them what it's like to use the fire extinguisher inside the house, or because we curl up on the couch before bed and write our Santa letters together (we always do this on Thanksgiving), we always have lots of memories to take with us into the next year.
Our first Thanksgiving as a for real family, #1 was only six days old.  I remember every moment of that day because I spent it crying in my parents bedroom with my learning-to-nurse baby and my achy boobs leaking all over everything.
I'd had all of these grand plans for how we would be able to start making our first family holiday traditions, but the only thing we really got was a couple of shoddy photos of me and the baby.
Holy crap that is scary.
All I can say is that child building and nearly dying during the birthing of said child is exhausting.  And, apparently, it wreaks havoc on your, um, everything.
That year was pretty much a bust when it came to family holiday traditions, but we did get our photo in and that one small gesture led to a brand new Thanksgiving tradition our family has upheld every year since: family photos.
It's the one day of the year that I make The Dudes wear button up shirts (which they complain about relentlessly), and we all go to dinner at Mimi's house looking like we have an actual address.
I bring my camera and set the timer and do the run back and forth thing a bunch of times so I can capture some images of all of us together.
They may not be perfect but man are they perfect!
I also make it a point to snap some pics of Mimi and Papa and The Dudes together.
And, sometimes I even make sure DudeDad and I get a few solo shots.
I imagine that one day I will want to bust out these photos and share what these moments were like with my grandchildren.  And, because they will ALL be girls, they will really, really appreciate it!
Whether you spend your Thanksgiving holiday with every human you know or keep it intimate with just your immediate family, do it with some special traditions that you and your children can share for many years to come.
Today's post is brought to you by Target, check out some of their festive products to make your holidays all special and sparkly this season!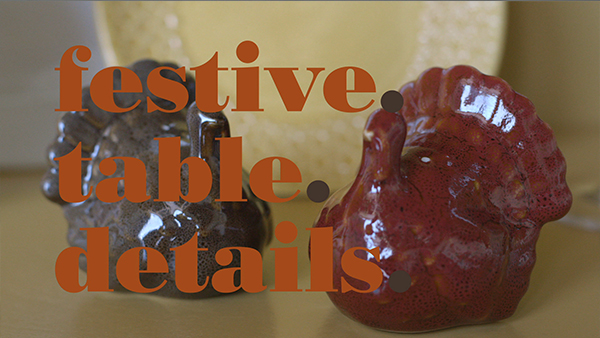 Content and/or other value provided by our partner, Target.