**Today's post is sponsored by Crest. All opinions about leftover Halloween candy and everything else are my own.**
I used to love Halloween when The Dudes were little.
We hosted this fun neighborhood Halloween party every year at our house and I put all kinds of effort into costumes and décor and treats. We had this awesome trivia game with real prizes. And, I even got dressed up myself.
I looked forward to that shindig every single year and so did they.
And then, one year they just weren't that into it.
I guess they just got old and decided cute spider cupcakes and witches brew punch wasn't really cool anymore.
Kinda like how wearing a matching costume with your mom just wasn't very cool anymore.
And going trick-or-treating with your dad wasn't very cool anymore.
And playing trivia games with your parents and your neighbors wasn't very cool anymore.
And getting a bag of raisins and a bag of pretzels in your Halloween bag courtesy of the yoga lady down the street wasn't very cool anymore.
Okay, you know what? That last thing was never cool.
People who give pretzels and raisins have no soul.
But, they do make picking out the house that gets toilet papered pretty freaking easy.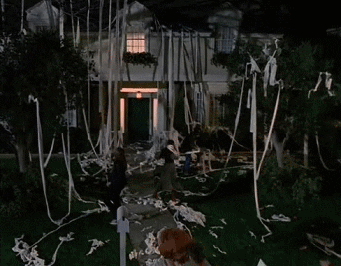 Point is, like everything else in life, when things like your annual Spook-tastic Halloween House Party get shunned by your too cool for basic mom stuff kids, you eventually just come to terms it and move on.
My days of being a cool mom when it comes to Halloween may be pretty much gone but that doesn't mean there is no room for joy and happiness on the spookiest night of the year. I plan to find plenty of that while hiding behind my garage and jumping out in a bloodied clown face mask to scare my children.
Then we'll see who's cool.
#Iamcomingforyouboy
#hopeyoudontpeeyourpants
#sikehopeyoudocuziamputtingthisonyoutube
As grown out of my adorable and fun parties as they are, there is one thing they haven't grown out of: Halloween candy.
Can't blame them, I wish I could dress up and go door to door asking people to gift me chocolates. Although, if I'm honest, the amount of candy they come home with each year is almost unbelievable -sacks so heavy with candy and gum they can barely carry them. And that's just from a quick go around our own neighborhood.
There is no way they need to eat it all because what doesn't turn their bellies barfy will surely rot their teeth.
So in an effort to be an awesome mom while also meeting my personal candy quota for the year, I find other ways to dwindle their candy supplies starting, of course, with taking my cut.
The annual Halloween Candy Tax that I levy with pleasure against my children is what I consider my payment for investing money and effort into their costumes, walking all over the neighborhood on a freezing cold weeknight, and just general wear and tear on my body thanks to giving them life and raising them for 18 years.
So, when it comes to giving me first dibs on their candy bags, I figure it's the least they can do.
And, apparently, I'm not the only one!
Crest recently conducted a survey of parents and found that 86% of us report that eating candy obtained by our children on Halloween. A whopping 44% even admitted to eating more of it than the kids do.
In addition to finding out what parents thought about Halloween candy, Crest brought in a few kids and asked them what Halloween would be like without it.
Dear Little Girl Who Threw Up a Little In That Video, I am so you.
Also, getting rid of candy on Halloween is dumb, but finding cool ways to make sure your kids eat less is actually pretty smart.
5 Cool Things to Do With Leftover Halloween Candy
(for kids and parents with zero chill around chocolate and other good things)
Eat it yourself.
We already established that this is an entirely reasonable thing to do to your children.
Sell it.
The Candy Buy Back Program was started in 2005 by a dentist in Wisconsin concerned about rising childhood tooth decay rates. He came up with an awesome way to both prevent kids from smashing piles of candy each Halloween and to help troops overseas at the same time. Offering $1 per pound of candy brought into his office was a great incentive for kids to give up the goodies their parents were probably hiding away from them anyway and, once delivered, he quickly boxed up their donations and sent them to troops overseas to enjoy.
Now a nationwide program, it continues to thrive today and you can easily find a dentist who participates near you by simply going to the Halloween Candy Buy Back site and typing in your zip code.
Your kids don't have to get silver teeth, you don't have to start your holiday weight gain in October, and soliders get to enjoy a tasty gift from home -win/win/win!
Make it into something new for Thanksgiving.
And then, give it to your friends and family.
With Thanksgiving less than a month away from Halloween, you have the perfect stash of goodies on hand to create a unique dessert to serve this year.
I like to do easy things like trail mix and snack mix, but you can try one of these: 18 Recipes Using Leftover Halloween Candy
Take it to work.
And be the office super star when you hand out candy for everyone!
Regift it.
In a totally non-tacky way of course.
I have a kid with a birthday less than a month after Halloween and their candy has always been a great addition to party goodie bags.
No birthday in the near future? Make goodie bags for your child's team instead -they'll think you're the cool mom even if your kids can't get on board with that concept.
Here's something else cool: Crest is making keeping your teeth clean this Halloween more affordable by offering some great deals this Halloween season: From 10/28 to 11/24, Target will be offering $1.00 off Crest 3D White Whitening Therapy and
$2.00 off Crest Gum & Enamel Repair or Crest Gum Detoxify through the Cartwheel app.
Along with the Cartwheel deals there is a gift card offer running 10/28 – 11/3, buy 4 Crest Pastes and receive a $5 gift card to Target.  Additionally, on 10/28, a $1-off coupon insert will be available inside local newspapers across the U.S., giving readers a discount on their favorite Crest Toothpaste varieties through 11/10.