Disclosure: This post is brought to you by Mott's and The Motherhood. All opinions are my own.
It's always funny to me when I see people posting TGIF on their pages, celebrating that it's Friday and they now finally get a break.
As a mom, we all know this isn't even a thing.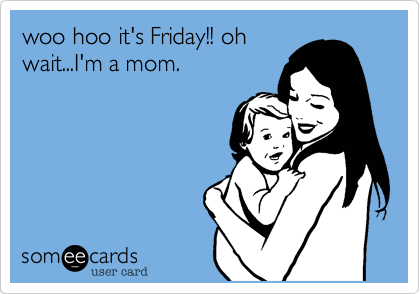 Basically.
Because sure, you don't have to go to work work, but the real work of spending all day managing every single moment of the people you call your family begins.
If you work outside of the home, the weekend basically just means time to get barfed on, yelled at, ignored, shamed, quilted, embarrassed, and admonished (yes, yes, and hugs, lots of loving little hugs to break up the crazy and make it all worth it) for multiple consecutive hours for the next two days. If you're a stay at home mom, the weekend is like? Wait, it's the weekend? Jeez, I thought it was Tuesday.
I'm more of a TGIMonday type of girl. I work from home and my kids are all in school full time. When Monday rolls around I can focus after a weekend of go-go-go-because-sports-and-errands-and-kid-things-and-work-and-sometimes-something-fun-that-also-feels-rushed.
Mondays are so my jam.
And, naturally, some weekends are worse than others.
This weekend? Was one of those weekends.
Like every single moment was filled with something intensely urgent requiring all of my focus and every single bit of my shouty voice.
Probably it's the FIVE games we had to attend. Yes, not a typo, we had five freaking athletic events to show up at this weekend: three soccer and two lacrosse.
You better know that Sunday was stank day for my children because there was no way in this whole earth I ran all over the place (including to DC to review a film), cheered myself hoarse, went to a football committee meeting, took care of all of the things, and also washed dirty uniforms.
No. Nope. No way.
I spit on the muddy parts, buffed 'em out with my elbow, and Febreezed the heck out of them instead. If anyone at the field thought they smelled a musty old sea breeze, don't think you're trippin', it was my children.
Fortunately I've been at this mom game long enough that I have developed some real life, good and honest, mom hacks to get me through when life wants to get all gangster on me.
Let me share them with you…
The 5 Great Mom Hacks Every Mom Needs
For moms who have zero time to wash a sweaty uniform before your next game: Febreeze. It is magic when it comes to annihilating funk. Option 2, hang your clothing outside to air out. A good air out works a thousand times better than a not-at-all-good-leave-in-the-back-of-your-van-zipped-into-a-bag-that-is-soggy-from-sitting-on-the-wet-field-all-day.
For moms with a bunch of socks to manage: stop folding them. We went to a laundry system where the kids either wear white (Dude 1), or colored (Dude 2), or crazy (Dude 3, of course) and I just throw them into separate baskets. When they need a pair, they go to the basket and pick out two. They either all match, are super easy to match, or it doesn't matter anyway (again, Dude 3, the man who has never worn two of the same sock).
For moms with hangry crazy hungry kids to feed: make snacks accessible. We use an afterschool snack basket (aka snacks in the middle of the counter because someone used the basket to put Lego guys in and never brought it back). I leave out mom approved snacks to calm the savage beasts post-school hunger makes them. They eat these while I prep First Dinner. Things like granola or protein bars, pretzels and cheese, or fruit anyway I can get it (ie, fresh, dried, canned, and in those little squeezy pack thingys work). In fact we always keep the portable fruit options on hand for quick snack fixes. We are a shop-twice-a-month-for-budget-purposes family so when it's Thursday and the strawberries have gone runny because tomorrow is shopping day, it's awesome to have a Mott's pack to toss in the lunch bag as a snack. Sure beats the family sized bag of tortilla chips and half eaten jar of salsa I was gonna send otherwise.
For moms who have muddy shoe wearing children: get a by-the-door shoe crate. My kids know not to step past the front door mat with their shoes on their feet. They've witnessed my maniacal response to muddy footprints enough times to know that they don't want to be the instigator of that. So, we have a shoe basket right by the door. They come in, kick off their kicks, and then proceed to incite madness in my household as they see fit. Minus the muddy evidence. In summer we move it outside the door so the beach sand doesn't even enter my realm.
For moms with active kids to shuttle: keep their gear organized and accessible. At our house, each of The Dudes has a sports bin, located near our door, where they keep their gear for practice and games. Cleats, shin guards, uniforms, practice kits, even washed and ready water bottles are stored there so they can grab and roll. It has eliminated the harried FIND-YOUR-JERSEY-NOOOOOOOW mornings none of us were ever fond of.
Bonus hack from Motts…For moms who are totally over the recorder because what even is that: let it get "lost" and then don't look for it.
Let's celebrate our awesome mom wins with money!
Mott's knows it's hard out there for a parent and they celebrate and support those who are doing the best they can every day for their kids. Their Good and Honest campaign is truly meant to uplift parents and acknowledge that we improvise along the way.
What's more uplifting that a $50 gift card you can use to buy yourself a box full of peanut butter cups for binge eating on the weekend something special to celebrate all of your try hards?
Use the comment section here to share your very best Good and Honest mom (or dad) hack; the thing you do to make your life with kids slightly easier. One lucky commenter will win a $50 gift card and a Mott's gift pack so you can enjoy your chocolate while they eat apple sauce for your family.
For everyone else, fist bumps.
Official Contest Rules: No purchase necessary. Entrant must be a US resident and over 18 to win. To enter, a comment must be left on this blog post, with a valid email address, by Sunday, April 19, at 11:59pm EST. Winner will be contacted via email and must respond with shipping info within 48 hours. Good luck, and may the force be with you.